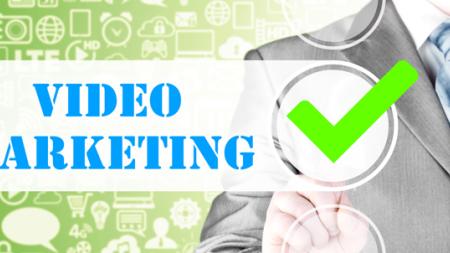 5 Reasons We Love Video Marketing (and You Should, too!)
Rumor has it that by 2017, 74% of all internet traffic will be video. That means less text-only content and "old school" marketing tactics will be all but extinct. The popularity of video content is rapidly growing and businesses are finding that it's more important than ever to incorporate a video marketing strategy into their marketing platform. By including videos into your marketing arsenal, you are going to showcase your brand like never before and reach audiences with show-stopping statistics.  Here are some favorites:
59% of executives prefer to watch videos than read a text-only article
The average web user spends 88% more time on a website that has video
64% of consumers are more likely to buy a product after watching a video.
Videos are the most effective social media marketing method. Those numbers should be enough to convince you that video marketing is the new frontier.  But, if you need a little more convincing, keep reading.  Find out why we love video marketing, and why you should too! Your brand and your consumers will thank you.
Why We Love Video Marketing
1.      Your brain loves videos
Everyone consumes content differently.  But regardless of your preferred method of learning, your brain is what actually retains the information.  Your brain is wired to remember visual content better than a page full of words. Studies have shown that the average viewer retains 95% of a message when they watch it, as opposed to a mere 10% retention rate when reading it.
If a picture is worth a thousand words, then a video is priceless.
To your brain, that is.  Whether you realize it or not, your brain processes visual information 60,000 times faster than text-only content.  That's heavy cognitive lifting when reading an article vs. watching a video.  Humans are hardwired to avoid cognitive strain, so that tendency to mental laziness automatically encourages us to consume video and information that is easier to process. This is clearly the smarter option for marketing if you want your brand to reach a broader audience.  Videos allow you to connect with visual learners, auditory learners, and even kinetic learners.
2.      Social media loves videos
Videos are easy to share.  Social media offers one-click sharing that makes it easier than ever to share funny cat videos, videos of pandas playing in the snow, and even popular fundraising trends like the ALS Ice Bucket Challenge. What's even better is that it's easier for your business, too.  If you create a good strong message in your video content, you won't have to make it your life's mission to share it – after a little social promotion, others will be sharing it for you.  Think of it like an extended marketing department. If that doesn't sound appealing enough, the numbers say it all: more than 500-days-worth of video are viewed (and shared) daily on Facebook.  Even more than that get viewed and shared on Twitter. Social sharing has opened doors for video marketing to become profitable and the best way to reach your audience without much effort – 92% of video viewers share videos with others, according to a study by Invodo.
3.      Mobile Devices love video
It's no secret that mobile optimization is taking over the digital marketing scene.  Creating content that is accessible on-the-go is crucial to reaching your audience, considering 91% of adults have their phones within reach at all times.
Consumers are 3 times more likely to watch a video on a mobile device, so if you have video content, your brand will literally be in the palm of their hand.  That's one step closer to reaching better conversion rates. Cenk Bulbul, the head of agency marketing at Google, agrees that videos are making waves in mobile marketing: "Mobile devices have redefined the way we live our lives and online video is in the midst of that redefinition… understanding and taking advantage of the changes in consumer behavior is more critical than ever for brands." If he can't convince you that mobile videos are important, then maybe no one can. But I would take his advice and start creating video content.
4.      Consumers love videos
Your brain may favor videos, but people consciously tend to favor videos over other marketing material because they are educational, entertaining, and inspiring. Videos make great storytellers.  Your brand will come alive through using video marketing to promote your business.  Movement grabs the eyes attention better than still images, so telling your story and selling your brand is already easier if you have the viewer's attention. Engage them. Motivate them. Connect with them. All through visual content.  Empathy is the foundation of good storytelling, so if you can put a face behind your brand and play to your audience's emotions, they will feel more comfortable and trust your brand. (Pssst - They'll be loyal if they trust you) Not only do visuals help build your reliability, but if your customers can hear about your brand through a conversational tone of voice, rich information will be translated.  Inflection is communicated way better through audio than text. A study by MarketingCharts.com shows that over 60% of consumers are more likely to purchase a product if they watch spend at least 2 minutes watching a video.  Use your video marketing to engage with your audience to keep their attention. Video moves people to laugh, cry, learn, get mad, and invoke every range of emotions – this will keep your viewers glued to the screen.
5.      Google loves videos
The King of Search Engines loves video, so you should, too.  I could leave it at that, but it's more than just Google rankings.
Yes, Google promotes websites that have video by incorporating video results in search queries. And yes, it is 50 times easier to achieve a "page 1 ranking" on Google if you have video content.  But, it's deeper than even that. Videos are measureable.  Google analytics dives below the surface of a ranking and can provide information that is critical to your entire marketing platform.  Videos can provide information like the number of times a video is loaded, played, and the average percentage of video watched. Analytics make creating content easier and can even be predictive – talk about having the upper hand over your competition! Use data like which videos get the most play time, which videos promote higher click-through-rates, and which videos seem to generate the most sales.  Knowing this information and incorporating it into your other marketing content will ensure audience engagement because you are providing content that answers their questions and satisfies their demands. Video analytics can help put you in the lead in your industry.  That's an offer you can't refuse…
Do you love video yet?
Yes, of course! Numbers don't lie, and honestly, who doesn't want to interact with their customers and exponentially grow their business? This can seem like a daunting endeavor though.  It might seem like a lot of time and effort that goes into producing videos and getting them in front of your audience.  And it is… without the right kind of help. Professional video production companies like Sheffield Audio-Video Productions love to help companies create video marketing content that will boost your engagement and generate more sales. Since 1981, Sheffield has been using state-of-the-art equipment to produce top-notch professional videos at a low-cost.  Their talented and experienced staff is what gives Sheffield the edge over other production companies.  To see how they can help you take your marketing methods to the next level, contact them today for a Free Quote and more information about their services.