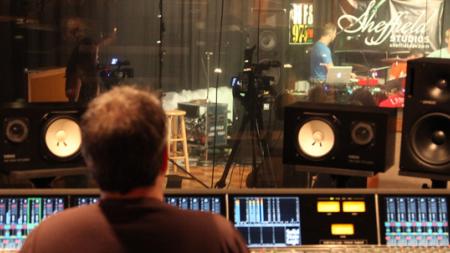 What Makes a Good Music Producer?
If you want to achieve the same level of success that music producer greats George Martin, Phil Spector, or Butch Vig have, grab a pencil and a pad of paper and start taking notes. 
There are a lot of things you can do to become a successful music producer, but it takes more than a simple love for music production and the desire to be famous. 
Let's take a look at what some of the pros in the industry have to say about making it in the music world and what you can do before, during, and after music producing school to get a leg up on everyone vying for the same success. 
1. Connect with Musicians on a Deeper Level
As a music producer, it is your job to get musicians to bare their emotions and weave them into the music they are recording. This is not easy because many people hold back their emotions, especially amongst people they are not 100% comfortable with. There is an element of psychology built into producing meaningful music; tap into that. 
2. Create an Inviting Space
People will come to your studio to express their creativity via music and lyrics. A great producer will ensure a comfortable and inviting workspace for clients to produce music in. make it so your clients want to create in your presence and trust that you will make their sound even better. 
3. Work Hard and Be Smart
Becoming successful straight out of music producing school rarely happens. You must work hard, build a name for yourself, and understand the fundamentals behind music production. Learn everything you can while in school so that when it comes to the real world, you are prepared to put all that knowledge to work for you. 
4. Be Versatile
Music producers should know a lot about a lot. They gather ideas for projects, select songs to record, make improvements or changes to song arrangements, coach artists and musicians, manage recording sessions, engineer and master some of the final production, and more. Versatility will make you valuable to many and put you in high demand. 
5. Become Business Savvy
Oftentimes a music producer will be responsible for the studio's budget, schedule, contracts, negotiations, copyrights, invoices, royalties, publishing, and licensing. Recognizing the importance of the business side of music production is essential for running a successful studio. 
6. Understand the Process of Music Production
Music producers are involved in all aspects of music production. Knowing each step in the process and being able to participate at all levels will make you shine overall. Conduct rehearsals before recording to ensure everyone is ready and equipment is good to go, make suggestions during the recording session to make songs even better, and help the master/mixing engineer(s) during the polishing stage to get your client's desired sound perfect. 
Overall, music producers manage all aspects of a recording project, from start to finish, and have the ability to have a say in how the final product will sound. They have a very broad role in the music world and there are many other qualities that make up a good music producer; this list is definitely not exhaustive. 
However, taking care to work hard, becoming knowledgeable, meeting industry professionals that can mentor you, and following your passion can lead you straight into a successful career as a music producer. 
If you are looking for the perfect music producing school to attend that will provide you the qualities listed above and guide you towards becoming a successful music producer, consider the Sheffield Institute for the Recording Arts. Specializing in things such as audio engineering, music production, technical aspects of the music industry, and broadcasting, Sheffield will provide you a wealth of expertise that you can easily apply to your dream career.