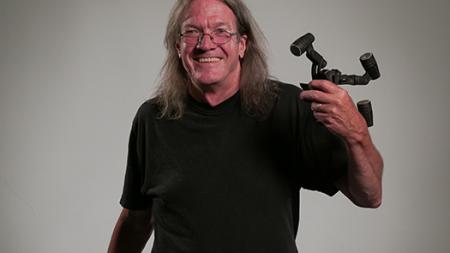 Speedoo McFadden
AudioWorks - Live Sound Reinforcement.
Speedoo started his live sound reinforcement company in 1992 after pursuing a career as a musician for 15 years. Sound reinforcement quickly became his niche, as he quickly built a loyal clientele of dozens of local and regional bands. In 1998, Speedoo was approached by The Kelly Bell Band and became their exclusive FOH technician. After 5 years of honing his skills on sound systems throughout the Mid-Atlantic area, Speedoo decided to move on and experience a wider range of musical talent.
In 2005 he was offered the position of Production Manager at the prestigious Recher Theatre in Towson, MD- a position he held until the venue's closure in 2013. During this 8-year period, Speedoo was privileged to work with artists such as Little Feat, Collective Soul, George Clinton and P-Funk, Victor Wooten, Les Claypool, Bryan Adams, Vanessa Carlton and scores of others. Since then, Speedoo has continued to mix live shows as a freelance engineer for regional companies like Harford Sound, Electro Sound Systems and Event EQ.
After experiencing virtually every analog system ever made, as well as many cutting-edge digital systems, Speedoo is happy to begin passing on his experience to a new generation of live sound technicians.