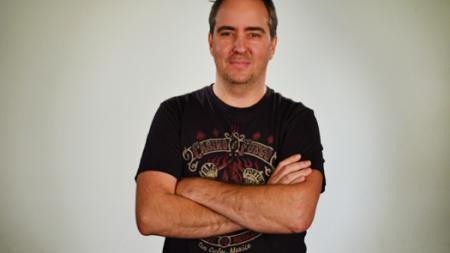 Drew Mazurek
AudioWorks - Basic Audio Technology, Intermediate Audio Production, Advanced Audio Technologies.
Drew is an experienced recording engineer/mixer with over 20 years in the music industry. He has owned and operated his own studio since 1988. In addition, he has spent many years as a freelance engineer working in studios around the world. Drew has hundreds of records to his credit for labels such as Atlantic, Warner Bros., Sony, MCA, TVT, Prosthetic, American, Metalblade, Maverick, Interscope, Tooth And Nail, Equal Vision, and Sire. Along the way, he has also earned an R.I.A.A. Gold Certification for his engineering on DJ Kool's "Let Me Clear My Throat".
Drew has also mixed many live broadcasts for MTV, VH1, and BET with artists such as The Neville Brothers, Lyle Lovett, Bonnie Raitt, Linkin Park, H.I.M., Jack's Mannequin, Panic At The Disco, Common, Akon, Jazmine Sullivan, Jimmy Eat World, Pavement, LCD Soundsystem, Matt & Kim, and Nas. Drew is also on the faculty of The Peabody Conservatory of The Johns Hopkins University. He spends most of his time focused on mixing various genres of music and helping young artists develop their sound.