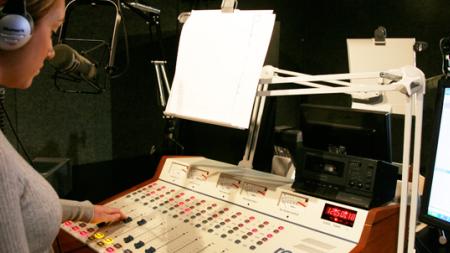 10 Reasons Attending the Sheffield Institute Will Help You Succeed
When choosing the right school to attend for your recording arts education, the word 'difficult' often comes to mind.  There are so many different options to choose from, ranging from full-fledged college degrees to at-home tutorials. 
So how do you choose which school will best prepare you for an exciting career in the music industry?
While every person's needs are different, today we will discuss the ten reasons why attending Sheffield Institute for the Recording Arts will help you succeed in the music industry. 
1. Top Notch Recording Equipment
Sheffield Institute's campus is comprised of a 20,000 sq. ft. audio and visual facility where every student has access to top-of-the-line equipment. 
Analog SSL Duality console
48-track Pro Tools HD system
Digital Yamaha DM2000 console
Avid Adrenaline and Avid Xpress Pro editing systems
Adobe After Effects and Adobe Creative Suite
DVD authoring suite
On-the-road equipment such as then all-digital SSL MT+ and dual Pro Tools HD equipped remote audio truck
2. Long-Standing Reputation in the Music Industry
Established in 1968, Sheffield Institute has over 40 years of experience. Hosting some of the first vocational audio engineering workshops ever in America, Sheffield knows its stuff.  
Approved in 1996 by the Maryland Higher Education Commission, Sheffield Institute has become known as one of the top recording arts schools in the country due to its superior reputation.  
3. Hands-on Training
The Sheffield Institute offers students hands-on training using the best equipment available in the industry. This is the same equipment used by Sheffield in the Audio/Visual Production services they provide clients. 
One-on-one attention is given so each student can excel at each task.  This unique experience will prepare you for future employment. 
4. Advisory Boards
Staying connected with companies that have important roles in the music industry is important to Sheffield.  Each course is tailored to meet the growing demands of the industry. 
Not only can they educate Sheffield on current happenings in the industry, but they can give insight into what is expected of students once they graduate.  
5. Comprehensive Courses
Variety is the spice of life and teh Sheffield Institute does not disappoint.  With 4 courses to choose from (AudioWorks, VideoWorks, TechWorks, and Broadcasting), there is sure to be something you are passionate about offered at Sheffield. In addition, each course prepares you for a variety of positions post-graduation.  The options are seemingly endless. 
6. Industry Experts Teach
Choosing to forgo becoming a nationally accredited school, the Sheffield Institute decided to remain state certified in order to employ industry professionals as the educators.  These expert instructors tech hands-on mechanics so you know what to expect once employed.  
7. Networking Opportunities
One of the most important things to look for in a quality recording arts school is their ability to introduce you to professionals in the industry. These relationships will help you break into some of the most coveted niches in the music industry.  With everyone vying for these prime positions, any connections you have are an added benefit.  
8. Classes Taught About Your Passion
Though hands-on experience is essential, it is important to have a solid grasp on the theory behind the industry as well. At Sheffield, you will attend lectures covering only the subjects you are interested in to build a solid foundation of the music industry.  
What more, classes last only 6 months for full-time students and 1 year for part-time. No time is wasted on subjects that will not help you in your field and you will find yourself seeking employment quickly. 
9. Personal Development
Attending Sheffield will instill in you the discipline needed to make it in a tough industry. Learning how to interact with other, meetings deadlines, and seeing a production through to the end are some of the life skills you will gain.  You will also accomplish something greater than finishing an online tutorial from home. 
Upon graduation, you will be officially certified to apply for any number of jobs in the music industry with Sheffield's name and reputation backing your skills.  
10. Career Services
When all is said and done, the Sheffield Institute will also help you find the perfect job. With a 70% job placement rate, plus help with resume and cover letter writing, mock interviews, networking tips, and industry connections, Sheffield will do anything to help you find a job. 
There are many options when it comes to choosing the perfect recording arts school to attend. Consider attending the Sheffield Institute for Recording Arts, where theory is explored, hands-on experience prepares, lasting connections are formed, and you graduate with enough knowledge to make your dreams come true in the music industry.